An adult Coyote when in pursuit can run at a speed of  56 to 69 km/h which is equivalent to 35 to 43 mph. These canines are native to North America and smaller in size than the wolf. It has almost the same ecological role as that of the golden jackal in Eurasia. They are well known for their sneaky nature and are hard to notice when they are on the move. They mostly move around with a slow and steady pace when looking for food. The speed of Coyote has been greatly undermined in the cartoon "Wile E. Coyote and the Road Runner", however, in real life, the Coyote can easily outrun the Road Runner whose top speed is 32 km/h i.e. 20 mph which is very less when compared to the Coyote speed. Let us have a brief overview of, How Fast Can A Coyote Run, its average speed, its top speed , its speed compared with other similar animals and whether we human can out run it or not.
How Fast Can A Coyote Run
Coyotes are fast and agile, when in a sprint, it can easily reach up to a speed of 64 km/h i.e. 40 mph. Their agility enable them quickly change their course when chasing a prey or being chased by a predator.
Coyotes mostly run at speed of 32 km/h i.e. 20 mph when chasing the prey and when moving over long distances they cover half of the distance by walking and half by running, while keeping their average speed at 32 km/h i.e. 20 mph.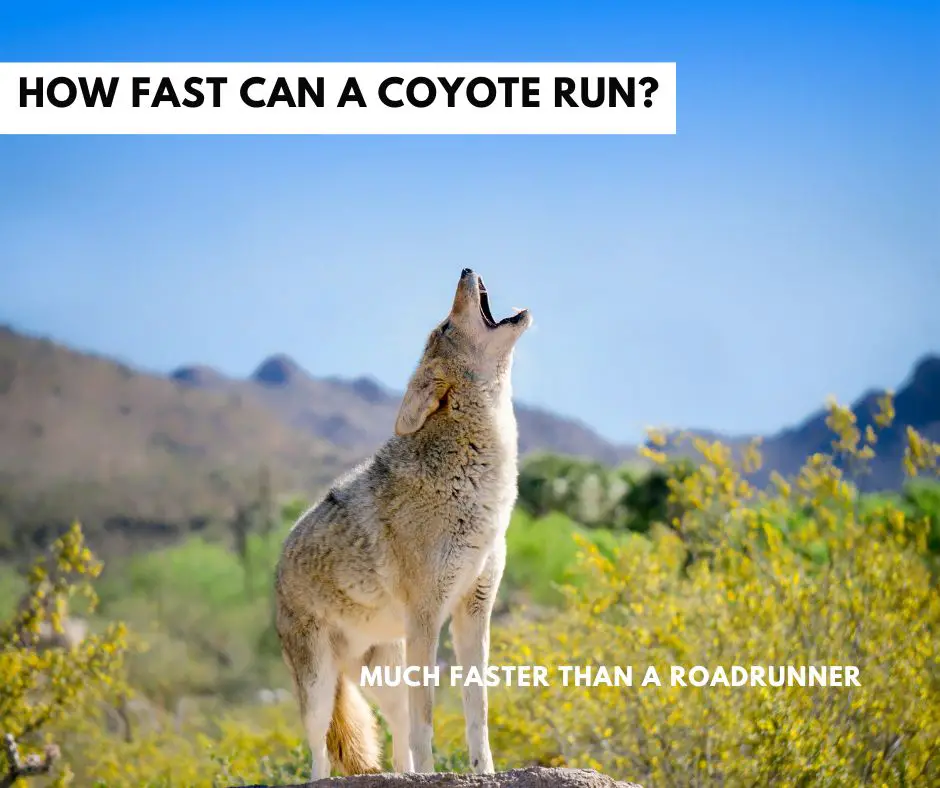 How long can a coyote run at top speed?
The coyotes can maintain their top speed for about less than 0.4 km (0.25 miles). For distance of about 3.3 km (2 miles) the coyote can retain its speed between 24 to 32 km/h i.e. 15–20 miles per hour and for distances longer than 2 miles its average speed is 16 to 24 km/h (10-15 mph).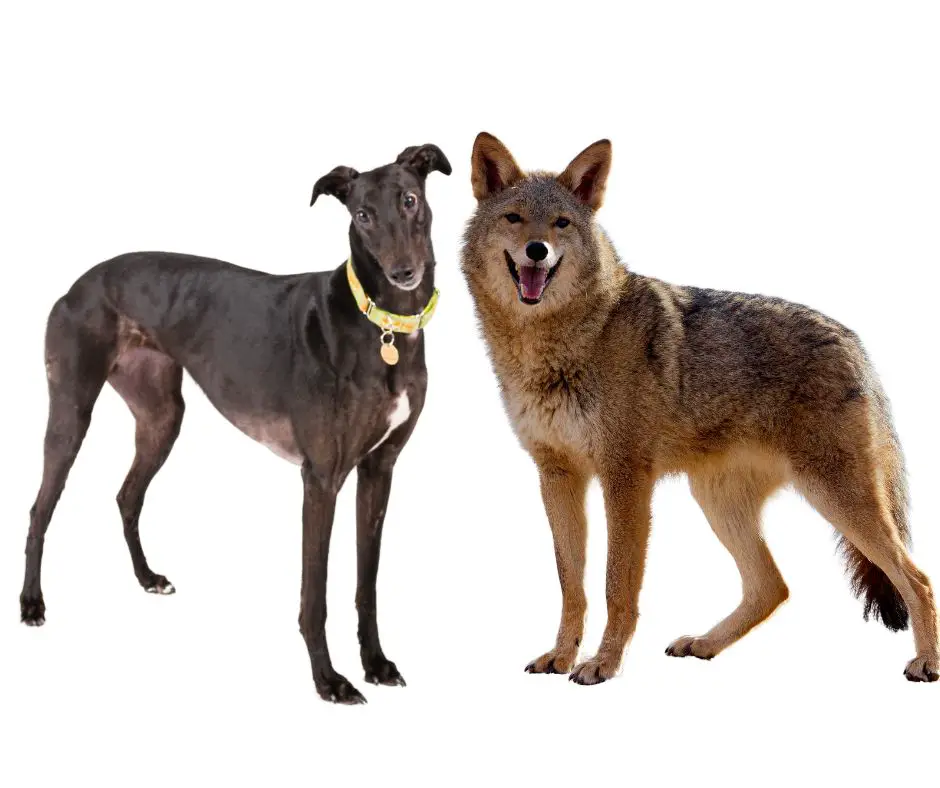 The average speed of most of the dogs is about 24 to 32 km/h i.e. 15–20 miles per hour for short distances. Some breeds are slower than this while some are fast enough to give the coyote a run for its life. The speed of the dog mostly depends upon their breed, health and physical built up.
The top speeds of some of the fastest running dog breeds are listed below:
Greyhound can run up to 72 km/h i.e. 45 miles per hour.
Salukis, Vizslas, and Deerhounds can reach a top speed of about 64 km/h i.e. 40 mph.
German Shepherds, Border Collies and Boxer Dogs have a top speed of 48 km/h i.e. 30 mph.
Jack Russell Terriers and Italian Greyhounds can run up to 40 to 48 km/h i.e. 25–30 mph.
From the list above we can see that the Greyhound top speed is more than that of a coyote while the speed of Salukis, Vizslas, and Deerhounds is almost the same as coyote.
However, the point to note here is that these top speeds are timed during their sprint. In figures the greyhound might be faster but in real world chase, only that animal will prevail which can maintain its high speed for a long distance. Both of these animals can maintain its high speed for about a quarter mile, from this we can deduce that the grey hound might be able to outrun the coyote. However, in real life this will depend upon the health, age and endurance of the individual animal that are running.
Is a coyote faster than a roadrunner?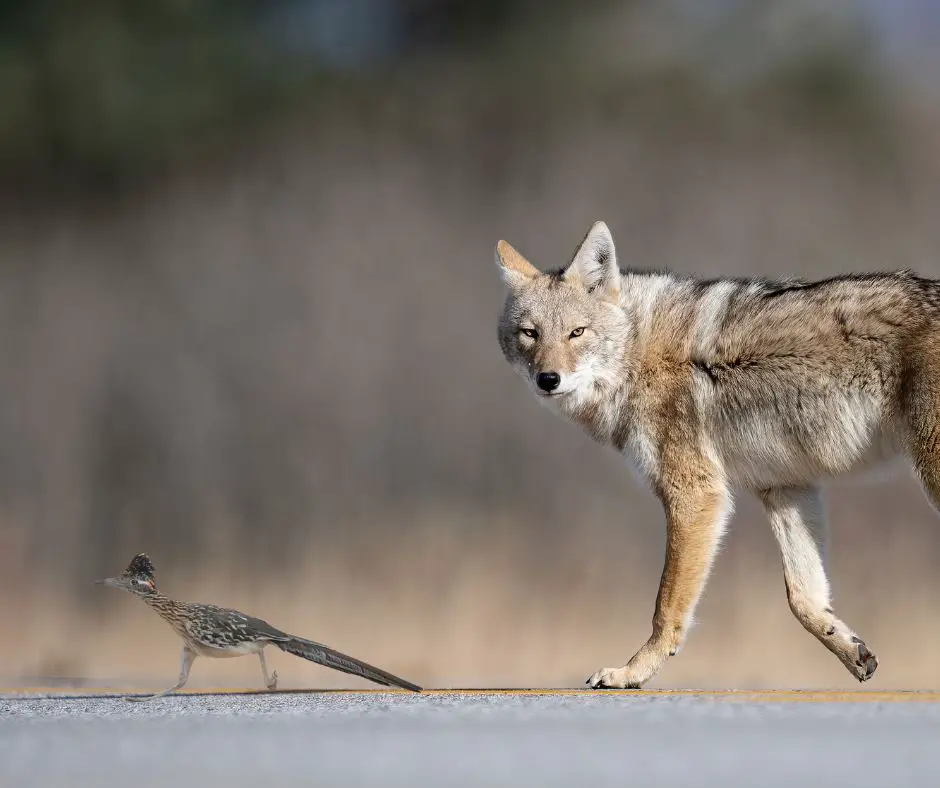 Yes, the coyote is much faster than the roadrunner. The top speed of Roadrunners is just 32 km/h (20 mph) while that of a coyote is 69 km/h (43 mph), which is twice as fast as the roadrunner. Due to the cartoon "Wile E. Coyote and the Road Runner" we all have been wrong about the roadrunner running faster than a coyote.
Can you outrun a coyote?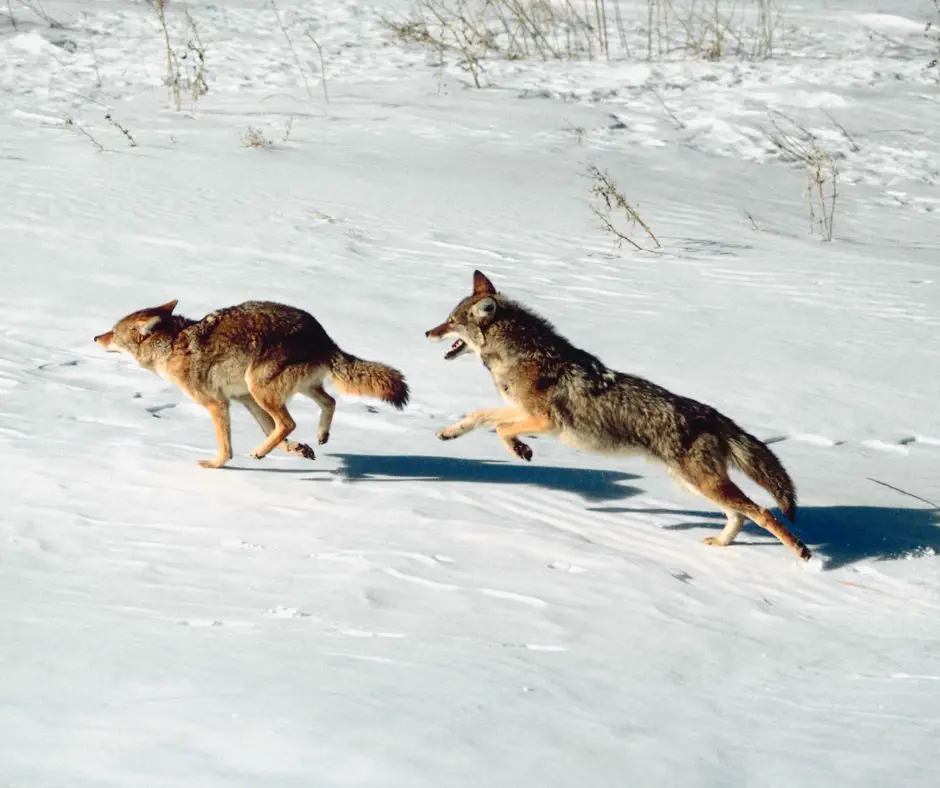 No, you cannot outrun a coyote. The average running speed of a man is about 13 km/h (8 mph) and the fastest speed on record is of Usain bolt which is 43.99 km/h (27.33 mph). So even if you are as fast as Usain bolt even then you cannot outrun a coyote which runs at 56 to 69 km/h (35 to 43 mph)
Your first instinct might be to run away when you see a coyote, however, it is not wise to run. Instead throw stones or sticks and make noise to defend yourself from an aggressive coyote.